Description
Ford Powerstroke 6.0L – 2003-2010 – Ford Motorcraft Remanufactured Fuel Injector
This OEM injector is a rebuilt injector using brand new components (including nozzle, slotted coil, control/spool valve & plunger) This is the most up to date version of the 6.0 injector. This is the exact same GENUINE MOTORCRAFT OEM injectors you would get from a Ford dealer, at a fraction of the price. They are the highest quality, most reliable injectors available for the 6.0 Motor. Each Injector is sealed and individually packaged including O-rings and copper crush washers necessary for installation.
Replaces part numbers:
Motorcraft: CN5019RM, CN5020RM
Ford: 3C3Z-9E527-EARM / EBRM / AE / ABRM / ECRM
4C3Z-9E527-AA / BRM
International: 1878285C91, 1846692C92, 1845150C92, 1879998C91, 1844751C2
Navistar: 1845150C92, 1844751C2
Alliant Power: AP60901, AP60900
Each injector comes with a two-year warranty.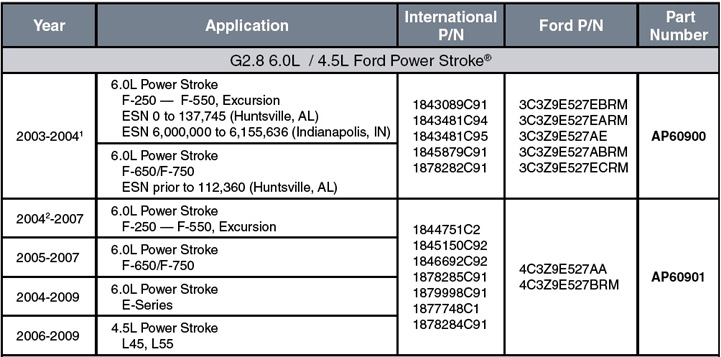 ---
DK Engine Parts offers a variety of engine parts and kits for most Ford Powerstroke applications and engine models. Please take a look at what we offer on our website and feel free to call us anytime with questions regarding items listed on our website. Also note that we offer more parts then what is currently listed on our website. If you do not see what you are looking for, please do not hesitate to call us. We have knowledgeable salesmen on standby to assist you with any questions you might have.
---