Description
New Deutz Return Line Sealing Section – M4183184
       This item is a brand NEW Deutz Return Line Sealing Section. This item replaces the original equipment (OE) of your Deutz engine. This is an aftermarket item that has been tested and used in many different applications to ensure that your engine returns back to or exceeds factory specifications. This item also replaces or supersedes part number(s):
---
Deutz Engine Serial Number (Motor Number) Reference
     This guide will help the sales person find the exact parts needed for the customer's engine.  Note that this guide may not apply to every engine serial number.  The engine serial number, or in some cases the motor number (Mtr. Number), will be located on a metal tag somewhere on the engine.  Below there is helpful picture to guide you in the location of the tag.  If the tag is missing there will be a stamped or imprinted number on the engine block.  If the numbers protrudes out of the block, that is a casting number and not the serial number.  The casting number does no good when trying to locate engine parts.  Again we need the serial number which is stamped in the block.  Look below for that location as well.  The engine serial number will consist of 6-8 digits, all numbers.  NOTE: This number will contain only numbers, there are no letters or symbols. This number is used to find the engine model and application in which the engine supports.  Along with the engine model, the sales representative will be looking for this type of information.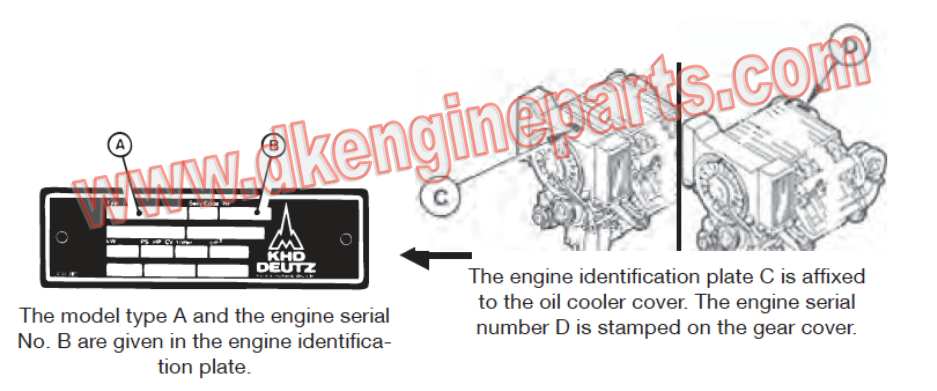 ---
     DK Engine Parts offers a variety of engine parts and kits for most Deutz applications and engine models.  Please take a look at what we offer on our website and feel free to call us anytime with questions regarding items listed on our website.  Also note that we offer more parts then what is currently listed on our website.  If you do not see what you are looking for, please do not hesitate to call us.  We have knowledgeable salesmen on standby to assist you with any questions you might have.
---